If your child has a disability and is not receiving an appropriate education within your local public school district in Hartford County, Forte Law Group is here to help. Every child is entitled to free public education, however, not every child is served by the options available to them through their assigned public school district. When your child's local school district fails to provide an appropriate public education, or you feel like your child's education is not advancing, you can bring a due process action against the school district to protect your child's future.
Standing up to the school district to enforce your child's rights may appear intimidating, complicated, and stressful. That is where Forte Law Group can help. At Forte Law Group, we understand the challenges parents of a child with disability faces when it comes to advancing your child's education. Our practice is focused on representing children and their families in legal matters regarding special education law at PPT meetings, mediation, and due process, as well as other related practice areas such as discipline, expulsion, section 504, bullying, and juvenile defense among others.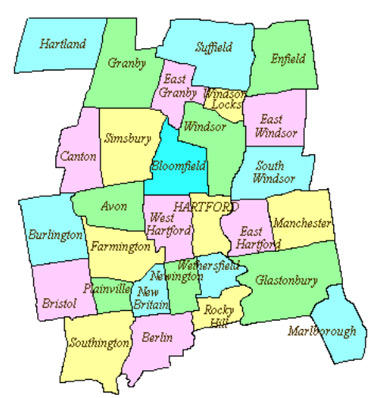 Working With A Special Education Attorney in Hartford County
As a parent of a child with a disability, getting an appropriate education for your child often involves navigating meetings with special education teams, advocating fiercely on behalf of your child, and sometimes pursuing legal action.
While this might sound daunting, our Hartford County special education lawyers are experienced in protecting the rights of children with special needs and their parents. Having an experienced special education lawyer on your side during a dispute with your school district, or simply to have on hand for questions while navigating the process, is invaluable.
Does Your Child Have A Disability That is Impacting Their Access to Education?
If your child has a disability, they are protected under both federal and state laws. Under the Individuals with Disabilities Education Act (IDEA), all children in the United States are entitled to a free, appropriate public education (FAPE). This law gives parents the right to participate in their child's education and requires your child's school to provide your child with an Individualized Education Plan (IEP).
An IEP is the document that details how the school will provide your child with the FAPE they are entitled to. Its purpose is to ensure that a child with a disability receives the specialized instruction they need. The plan will contain information such as a description of the special education services needed, annual goals, and evaluation methods to determine if those goals are being met.
Under Connecticut state law, the IEP team is called the planning and placement team, or PPT. This is the team that meets to develop, review, and revise a child's IEP. This team includes, among others, parents, teachers, school district representatives, and, if you choose, your attorney.
Types of Representation for Families of Children With Disabilities
Special education law is a complex field. Parents often begin advocating on behalf of their special needs child on their own but soon realize the need for representation by a Hartford County special education lawyer to help them navigate the complex field of special education law.
Examples of representation for families of children with special needs include:
Review of your child's educational records;
Requesting an evaluation or a PPT meeting;
Preparing for the PPT meeting, including making suggestions for the plan;
Attending PPT meetings and advocating on your child's behalf for accommodations and evaluations;
Reviewing evaluations and PPT forms prior to you signing them;
Mediation with the school district to resolve disputes without involving the court;
Attending school discipline hearings;
Representing you in a dispute with the school district;
Filing complaints on your behalf against the school district; and
Preparing for and attending hearings before the Connecticut State Department of Education.
When Should You Consider Hiring a Hartford County Special Education Attorney?
Whether your child already has an IEP in place or you are considering requesting an evaluation, it is never too late or too early to have a Hartford County special education lawyer working on your behalf. Every PPT meeting, as well as the development of your child's IEP, should be viewed by parents as a legal proceeding that will impact your child's right to a FAPE. A school district will almost always have an attorney representing their interests, and we believe that parents deserve the same level of advocacy.
Here are just some of the many instances in which you should consider hiring a special education attorney:
Your school district refuses to evaluate your child;
Your child has been suspended or expelled as a result of their disability;
You cannot come to an agreement with the school district on your child's IEP;
Your child is not progressing as you think they should be;
Your child has special needs but you do not know how to navigate the special education process alone;
You do not have enough time to devote to navigating the special education process or you want someone by your side to guide you;
Your school district is not complying with the IEP in place;
Your child is being bullied or discriminated against; or
You want to file a complaint against the school district.
How Our Firm Can Help
Navigating the special education process can be exhausting and disheartening, but it does not have to be and you do not have to go it alone. Our experienced Hartford County special education lawyers are here to assist you in any way we can. Reach out to us today for a free consultation to discuss your concerns and goals for your special needs child.
After our initial consultation, we will develop a plan of action, working closely with you, the parent, throughout the entire process. We can be as directly involved as you wish, or can work in the background to assist you as needed. Just as every child is unique, so is our representation for every family and child with special needs.
Our Hartford County special education lawyers can help you by:
Providing you with the necessary knowledge, information, and strategies to help you advocate for your child as best you can;
Helping to draft your child's IEP;
Reviewing your child's records and IEP, making suggestions and revisions;
Writing letters to the school district and filing documents to protect your child's rights;
Accompanying you to and representing you at PPT meetings to advocate for your child;
Helping you informally resolve a dispute with the school, without the need to go to court; and
Zealously advocate for your child's rights at special education hearings, court hearings, and wherever necessary.
We understand the challenges parents of special needs children face when it comes to obtaining a FAPE for their children. Special education law is a specialized practice area and our attorneys are skilled at navigating its complex laws. We have worked closely with the Hartford County school districts for many years and bring that experience with us to every child's case. 
Access Your School District's Special Education Website Within Hartford County
We are involved throughout the state of Connecticut. Our law firm can advocate for children wherever their school district is in the State, including Hartford County. For your convenience, we have linked to your school district's special education website within Hartford County here:
Does Your Child Require Private Outplacement At Public School District Expense?
Forte Law Group has compiled an extensive list of private special education programs and therapeutic schools within Greater Hartford County:
Adelbrook – Manchester, CT
American School for the Deaf – West Hartford, CT
Ben Bronze Academy – West Hartford, CT
Community Child Guidance Clinic – Manchester, CT
Eagle House Education Program – Hartford, CT 

Futures School – West Hartford, CT
Gengras Center School – West Hartford, CT
High Road School of Hartford High – Hartford, CT
High Road School of Hartford Primary  – Hartford, CT
Intensive Education Academy – West Hartford, CT
Manchester Memorial Hospital Clinical Day School – Manchester, CT
Natchaug Hospital School – Enfield, CT
Northwest Village School – Plainville, CT
Oak Hill School – Hartford, CT
Options Educational Services – Hartford, CT
PACES  – West Hartford, CT
Raymond Hill School – New Britain, CT
Solterra Academy – New Britain, CT
The Webb School – Hartford, CT
About Forte Law Group
Forte Law Group is a special education law firm serving families in Hartford County, CT and beyond. We help students and their families overcome challenges that they are experiencing at school so that they can receive the best education possible.
While every situation is different, and the educational needs of your child are unique, our team has the experience and knowledge required to successfully advocate for your child. Our founder, attorney Jeffrey Forte, is the host of the podcast Let's Talk Sped Law and is published in media outlets around the country on matters related to special education. In addition, our team regularly consults with leading clinical experts within the special education field to provide the absolute best recommended course of action for your child.
If you believe that your child is not receiving an appropriate education in the Hartford, CT public school system, Forte Law Group is here to help protect your child's rights to education.  Contact our law firm today to schedule your initial consultation.
Do you have more questions about Special Education Law in Hartford County, CT?
If you have more questions about our services or your child's rights under the law, we invite you
to listen to the following content provided by Attorney Jeffrey Forte:
Ready to Connect with Us?
Call us at 203-257-7999 or schedule a phone call with us here.