About Forte Law Group LLC
Forte Law Group is one of only a very few law firms within the state of Connecticut that is dedicated to exclusively representing families and children with special needs. Whether you need an attorney to attend your child's PPT meeting, represent you during mediation, or need an attorney to bring a due process action against the school district, Forte Law Group stands apart because we provide our clients with an unprecedented amount of legal and educational guidance, resources and support throughout the entire scope of your legal representation. At the Forte Law Group, we believe knowledge is power, that is why we frequently offer free FLG Family Workshops throughout the state.
About Jeffrey L. Forte, J.D.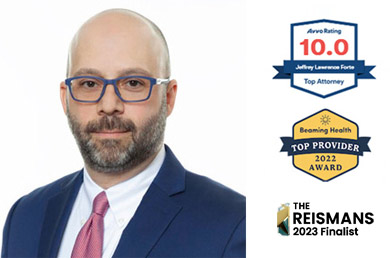 Jeff has devoted his entire legal career to serving the Connecticut community, advocating and negotiating on behalf of his clients. Jeff has experience you may trust and rely on to successfully navigate through PPT meetings, negotiations, hearings, mediations and trials ranging from classroom to courtroom settings.
Jeff's negotiation ability to separate people from the problem, focus on solutions and interests rather than on positions and base outcomes on objective, measurable criteria is what separates him as a top skilled negotiator, litigator and advocate.
Jeff is the founding member of Forte Law Group and is one of only very few attorneys in Connecticut that has obtained a Certificate in Special Education Advocacy from the Institute of Special Education Advocacy (ISEA) at William & Mary Law School in Williamsburg, Virginia.
Throughout Jeff's entire legal career, he has pursued accountability, coverage and developments in Connecticut laws concerning special education, families, civil rights, criminal justice, personal injury, probate and appellate law. Earlier in his legal career, Jeff practiced both civil personal injury and defense litigation before going in-house with a large legal organization where he routinely negotiated multimillion dollar agreements. Throughout his legal career, Jeff has always taken on cases to represent children, families and organizations that needed the help of a negotiation and litigation lawyer. Jeff now devotes 100% of his practice exclusively to representing families and children.
Jeff's legal educational background including his legal internships while in law school contributed significantly to him honing the multifaceted nature of special education law, juvenile justice and child advocacy.
Jeff graduated from American University, Washington College of Law where he placed first in his class for trial advocacy and first in his class for best appellate argument at the law school's mock trial and moot court competitions. While in law school, Jeff also served as Dean's Fellow for the both Civil & Criminal Mock Trial Programs and was selected to be one of eight student attorneys to serve within the law school's Third Year Criminal Justice Clinic where he served as a criminal defense attorney for children involved within the juvenile justice system.
Jeff was also recognized on a national level within the National Moot Court Competition where he placed third in the nation for best legal brief. Jeff also interned within the Connecticut State's Attorney Office and the Division of the Public Defender where he worked with children within the juvenile justice system as well as interned at a child correctional facility in Montgomery, Maryland where he represented incarcerated youth during disciplinary proceedings.
Prior to founding Forte Law Group, Jeff also worked for two of the largest litigation law firms within the state of Connecticut where he honed his negotiation, litigation and advocacy skills. Jeff has participated in hundreds of pre-trials, mediations and court proceedings relating to individual rights, advocacy and representation. In the corporate in-house setting, Jeff has also successfully presented, negotiated and brokered multimillion dollar agreements, all the while taking on various pro bono cases involving children, families and organizations.
Both of Jeff's parents served as a teacher, college professor and support personnel within the public-school education system for over 35 years. Jeff's wife is also a Board-Certified Behavior Analyst and Licensed Clinical Social Worker that recently received her Doctorate Degree in Applied Behavior Analysis and works with children that have special needs with a focus on autism. Coupled with Jeff's ties to the Connecticut education community, Forte Law Group provides an unparalleled amount of clinical and behavioral consulting connections for your child's special education needs.
About Jill Hornig, J.D.| Of Counsel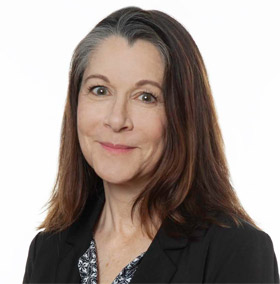 Jill graduated Magna Cum Laude from Pace University School of Law in 1992, where she was an editor of the Law Review, after earning a BA in English from Lehigh University. She has been admitted to practice in both New York and Connecticut since 1993. Jill originally worked as an insurance coverage attorney, focusing on environmental and products liability cases.
After taking several years off to raise her children, Jill discovered the world of special education law when her oldest child was diagnosed with an autism spectrum disorder in 2002. Since that time, she has advocated for her own children (3 with various levels of need) and began using her talents to assist other special education attorneys. Jill has worked with numerous special education attorneys in both New York and Connecticut providing project assistance, autism expertise and critical support in countless due process proceedings and mediations.
As the parent of several children with special needs, Jill knows what it's like to navigate the world of special education services and brings that unique perspective to each case.
About Jennifer Lewis, Legal Administrative Assistant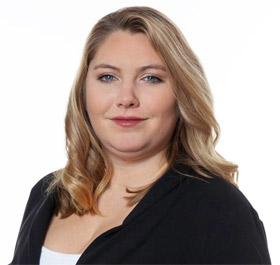 Jen graduated from Newbury College in 2014 with a Bachelor's Degree in criminal justice. Since then Jen has worked as a legal administrative assistant in several other major litigation law firms throughout Connecticut before joining Forte Law Group. Jen brings with her a wealth of knowledge and experience in client file and client communication management, while also fully supporting both Attorneys Forte and Hornig through all phases of special education legal representation, child advocacy and due process litigation.